If you're planning to travel to the birthplace of the Renaissance, you're pretty much guaranteed an incredible, dreamy experience! But if you want to absolutely make sure it the best trip possible, we have some of the best tips for traveling to Florence, Italy.
The top 5 tips for traveling to Florence, Italy is knowing the best time to visit, the must-see architecture and art spots, how to keep costs down, the best ways to travel around the city, and how to stay safe.
By learning more about these essential tips, not only will you have an incredible vacation around this majestic city, but also you'll leave with memories that will last a lifetime.
The Best Time To Travel To Florence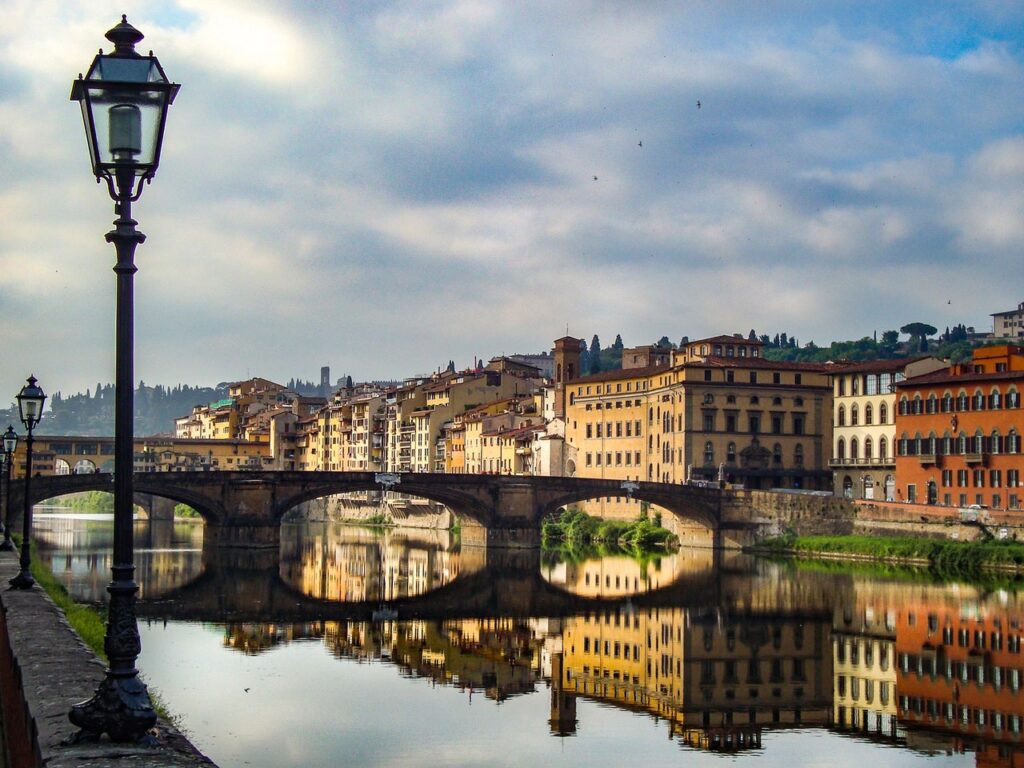 Most people plan to travel during the summer, but Florence can be really hot during the peak summer months. It's doable, but if you're looking for a time when the sun won't be beating down on you constantly the best time to visit Florence is between April and June or between September and October.
Not only are these great times to visit because of the weather, but fewer people actually travel to the city during these months. That means you'll have better chances of capturing the beautiful architecture of Florence without tourists photobombing your photos.
But it also depends on what kind of activities you plan to do while in Firenze. If you'd like to catch some traditional festivals, June to October are the best months. Backpackers love November to March and those who love cheap airfare fly in between December and February.
Must-See Architecture and Art Spots
There is no limit to what you can see in Florence, so unless you plan to spend a year in the city prioritizing the best architecture and art spots is a must!
Galleria de Uffizi
The Uffizi is the most prominent and important art museum in Florence, known for its vast collection of Italian Renaissance masterpieces.
Some of the most famous pieces of art housed at the Uffizi include 'The Birth of Venus' by Sandro Botticelli, 'Coronation of the Virgin' by Fra Angelico, 'Laocoon and his Sons' by Baccio Bandinelli, and 'Doni Tondo' by Michelangelo.
You'll want to buy your tickets in advance to avoid the long lines to get in. You'll also want to plan for several hours to visit, as it's easy to become mesmerized by the endless hallways and floors of Renaissance art.
Basilica of Santa Croce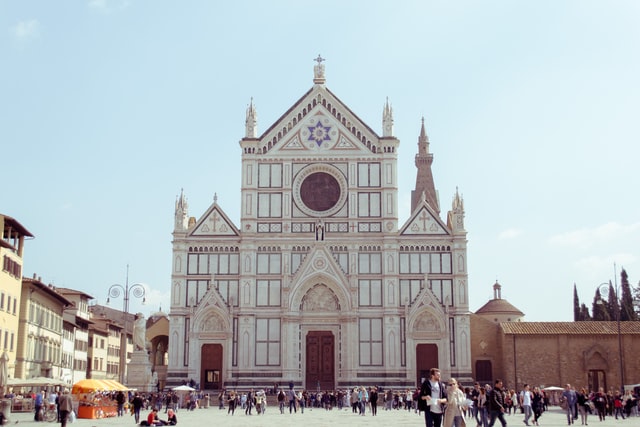 The Basilica of Santa Croce is the largest Franciscan church in Italy and one of the most famous churches in Florence where you will also find the tombs of Michelangelo and Galileo Galilei. There is also a tomb for Dante, but his remains are actually buried in Ravenna, Italy because he was exiled from Florence.
The original structure was built in 1212 with the present building dating back to 1295. It then received another renovation in 1863. On-site you'll find 16 family chapels when families were able to have chapels built and decorated in their honor.
Duomo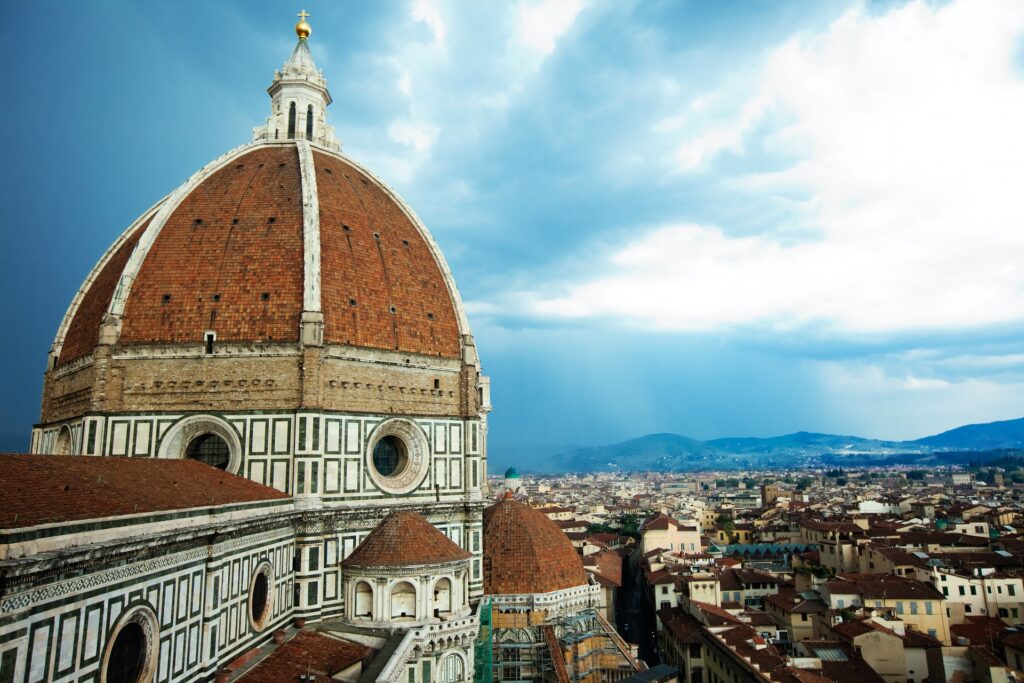 Probably the most notable building in the entire city, the Duomo, also known as the Florence Cathedral, towers over the city with Renaissance magnificence. Started in the 13th century by Arnolfo di Cambio, it was finally finished in the 15th century by Filippo Brunelleschi with the addition of the famous dome.
It is free to enter the Duomo, but be prepared to wait in long lines. Because of the structure, only a certain number of people are allowed in to reduce the amount of noise inside. You can also climb to the top of the cupola for an incredible view of the city.
Statue of David at the Accademia Gallery
A visit to Florence would not be complete without seeing Michelangelo's statue of David at the Accademia Gallery. This museum is just a short walk from the Duomo and this piece of art is one of the most famous pieces to come out of the Italian Renaissance.
This is where you'll see the original Statue of David, two copies are located in other places in Florence. Michelangelo completed the 16-feet tall (5-meter), 5-ton sculpture in 1504.
These are the must-see places while in Florence, but if you have time for more activities click here to see what more adventures await you.
How To Keep Costs Down
As you can imagine, your biggest costs will be food and lodging. You will find numerous hotels in Florence, but you may be pleasantly surprised with the quality of the hostels located in the heart of the city.
If you don't mind sharing a 4-6-person bed dorm room, you can look to pay around $17 USD/night. You can even find places that go up to 12+ beds in one space that only cost around $13 USD/night. But if you're not someone who wants to share a space with that many people, many hostels offer private rooms that only cost around $50 USD/night.
You can also find several Airbnb options as well, either shared spaces or private rooms within a residence. Costs can vary from $22 USD/night to $33 USD/night. You can also find affordable studio apartments for around $50 USD/night. So you definitely don't need to spend tons of money for a place to rest your head at night after a long day of exploring!
And when it comes to food, you can enjoy everything that Italy has to offer without breaking the bank. There are definitely expensive places, but you can also find delicious sandwich shops, pizza, and pasta at affordable prices. Don't be afraid to get out of the city center to find even more affordable options. Ask the locals where they like to go, as the locals tend to stay away from touristy restaurants.
You can plan to spend around $7 USD for a sandwich, $2.50 USD for a cappuccino, a little more than $1 USD for gelato, and when you're ready for a nice dinner with a glass of wine you can budget for around $30 USD.
How To Travel Around Florence
Honestly, you can discover most of Florence on foot. Not only will you save tons of money, but it is much easier to walk around the city than trying to take transportation around an old European city. The absolute furthest you can plan to walk is 30 minutes. No matter where you're staying, ask the hotel staff for a walking map and they can help you navigate the city on foot.
However, you can always opt in to get the Firenze Pass. It costs about $80 USD and it's good for three days. It will get you to the most popular spots in Florence. You can always grab the public bus too, a ticket is good for 90 minutes and costs around $1.30 USD. There are also plenty of bike rentals where you can bike around the city for about $13 USD/day. Taxis are an option too, but they tend to be expensive.
How To Stay Safe In Florence
Overall, Florence is a safe city. The biggest thing you need to worry about is pick-pocketers who prey on tourists too distracted by the beauty of the city. Be sure to keep important items like cash, credit cards, and your passport in a bag that hangs in the front of your person, and do not keep anything in your back pockets.
The best rule no matter where you travel is to make a copy of your passport and ID. Have the copies saved somewhere safe so that way if they do get stolen you will be able to contact your embassy.
Additionally, be alert for any possible scams. Because some museums have long lines, someone may offer you a "pay-to-skip-the-line" pass. Those do not exist!
It's best to follow common sense just like you would at home. Don't go out after dark by yourself and follow your gut instinct.
Lastly, you can always buy travel insurance. This can help cover any costs if something does happen to you while abroad.
You can also check our pick for the Best Cities in Europe to Explore