Cancun may have the reputation for wild spring breakers, but the beautiful beaches offer more than a place to enjoy drinks and get a tan. Yes, if relaxing on the beach sounds good to you there is plenty of white sand for everyone, but by following these tips you'll discover more adventures are waiting when you visit Cancun.
The top 5 tips for traveling to Cancun, Mexico is knowing the best time to visit, the must-see attractions, how to keep costs down, the best ways to travel around the city, and how to stay safe.
You'll meet some of the nicest people in Cancun both in and outside of the resorts. And by following these tips you'll discover the real beauty the lies in the country of Mexico.
The Best Time To Travel To Cancun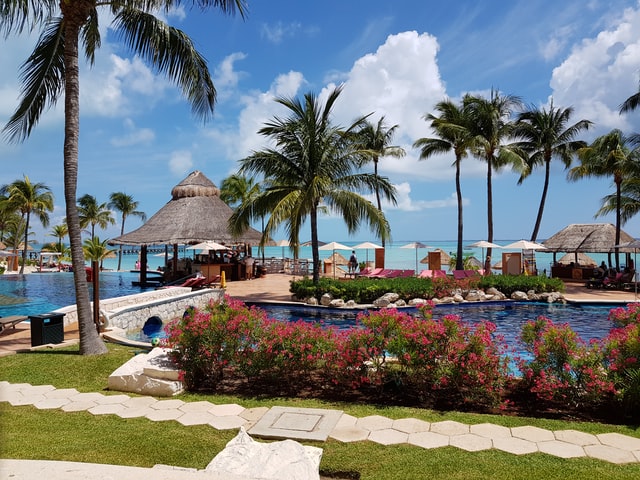 The best time to visit Cancun is from December to the end of April because that is when you'll experience the best weather. But it is also the busiest time of the year, so if you plan to visit during these months be sure to book your lodging in advance.
Some months you can risk going to Cancun include May to October. This is usually the rainy season, so each day you can expect heavy downpours. The good news the downpours don't usually last too long but be prepared for rain every day.
Typically the months to absolutely avoid are August to November, which is considered to be hurricane season. You can also try to avoid spring break if you don't want to get caught up in crazy college student crowds.
Must-See Attractions
Most people when they visit Cancun stay at one of the many all-inclusive resorts in what's called the Hotel Zone. There is usually plenty to do in the resort, but if you truly want to discover Cancun and the country, it's worth leaving this isolated area.
Chichen Itza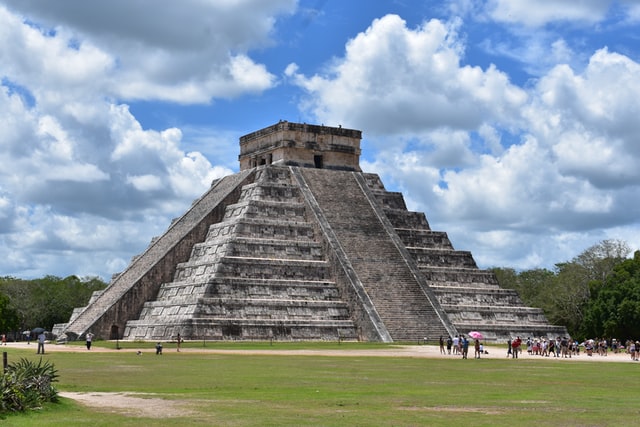 Chichen Itza is one of Mexico's most popular and important archaeological sites. Home to about 35,000 Mayans in its prime, more than 2.5 million tourists visit Chichen Itza each year to explore the ruins, temples, columns, tombs, and even ancient ball courts.
Entrance to Chichen Itza is about $27 USD, with a number of tours available for an additional cost. It's located 120 miles or about 2.5 hours from Cancun.
Cancun Underwater Museum
A unique museum between the island of Cancun and Isla Mujeres, this museum is completely underwater and where you can snorkel to see nearly 500 life-size installations.
British artist Jason De Caires Taylor started this museum as a way to bring awareness to the conservation of the oceans and the needed balance between nature and humankind. If you're not a fan of snorkeling or diving, you can always opt-in for the glass bottom boat tour.
Market 28
Venturing out of the resort area and heading to Market 28 in downtown Cancun is one of the best chances to experience Mexican culture and view traditional crafts, pottery, glassware, and artwork.
There are several vendors at Market 28, so if you see something you like you may find it less expensive somewhere else. Or if you don't want to take the chance, it's completely normal to respectfully negotiate the price of most items.
You can easily grab the R-2 bus from the Hotel Zone and they'll drop you off just a few blocks from the market. Or it's just a short walk if you're staying in downtown Cancun.
Street Taco Tour
You just don't know what a real taco is supposed to taste like until you actually have authentic ones in Mexico. You can join any number of street taco tours in Cancun where you can spend 3-4 hours going through downtown Cancun sampling the best tacos in the world. Animal lovers, there are also vegetarian options too.
Depending on which tour you sign up for, it may also include drinks and spirits too!
How To Keep Costs Down
Keeping costs down in Cancun should not be an issue. Hostels are extremely inexpensive because there are just so many of them in the area. You can find a six-person room for as low as $6 USD/night! Most hostels range between $30-$50 USD/night.
There are also plenty of hotels and resorts available. The all-inclusive resorts can get pricey, but if you sign up to receive alerts when they are offering specials you may be able to snag a pretty snazzy resort at $150 USD/night, rather than the usual $500 USD/night.
If you want to be sure to stick with a budget, a normal hotel is usually around $42 USD/night and they include Wifi and breakfast.
How To Travel Around Cancun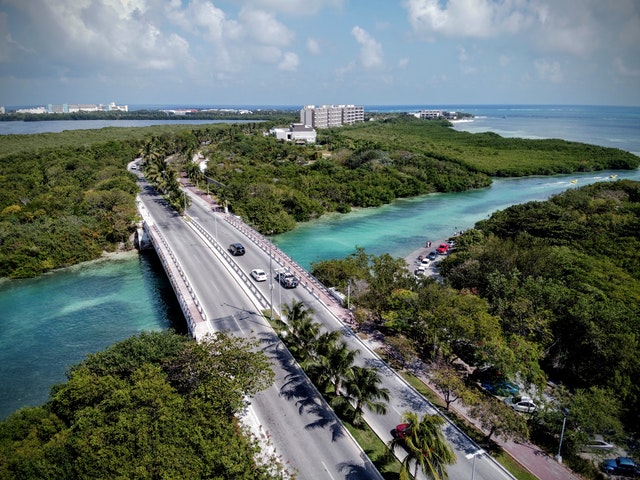 Cancun is a pretty easy city to get around. You can hop on any of the public buses and tickets only cost about 50 cents USD. Taxis are not metered, but you can plan to spend around $2 USD to get around the city.
If you're feeling super independent, you can also rent a car. There are plenty of car rentals available when you land in Cancun because people usually like to go exploring outside of the city. Rentals usually range around $25 USD/day.
How To Stay Safe In Cancun
Cancun is a hotspot for tourists, so you'll mostly hear about pickpocketing and purse theft. When you're on the beach, make sure you don't leave any valuable items unattended. Most of the locals are extremely nice and willing to help. Even if you know just a few words and sentences in Spanish, that gesture will go a long way.
Really dangerous crimes are very uncommon but tend to make a big noise in the news. To avoid any possible danger, stay clear of any incidents involving drugs or sex tourism. If you wouldn't do it at home, why would you do it in Cancun?
If you use common sense, Cancun will be an enjoyable vacation that you will always remember!