If you're planning to travel to the hometown of Oktoberfest in southern Germany, you will be surprised there is so much more to do than drink beer… though drinking beer is always fun too. You may be going to Munich for the beer, but by following these tips you'll discover an even better adventure in this Bavarian city.
The top 5 tips for traveling to Munich, Germany is knowing the best time to visit, the must-see attractions, how to keep costs down, the best ways to travel around the city, and how to stay safe.
By learning more about these essential tips, not only will you have an incredible experience in Munich, but you'll also be so amazed by German culture and history so much that you'll be planning a second visit in no time.
The Best Time To Travel To Munich
There is probably no bad time to visit Munich. Summers are hot, so it's completely normal for people to swim in nearby lakes and hang out all day at beer gardens. Even in the winter, temperatures stay around 23F (-5C), but the Christmas markets and hot gluhwein (mulled, spiced wine) make the cold not even that noticeable.
Most people tend to visit Munich from the end of September to early October to attend Oktoberfest. If this is when you plan to visit, make sure you book your lodging way in advance because literally every bed is taken during this beer-drinking celebration. Locals actually leave the city during this time because of all the tourists and rent out their apartments!
Must-See Attractions
Since Munich did not get bombed during World War II, there are so many attractions around the city that remain intact. In between the beers, make sure to explore what the city has to offer.
Nymphenburg Palace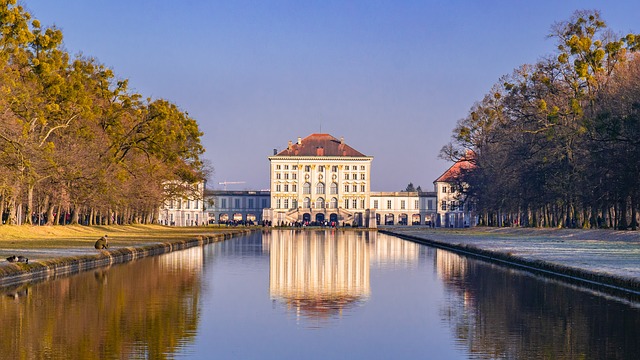 One of the most majestic showpieces of premier royalty in Europe, Nymphenburg Palace used to be the summer residence of the former rules of Bavaria. With an estate of nearly 500 acres, it is truly an exploration of Baroque magnificence.
You can walk inside the palace to view lavishly decorated rooms, including the former bedroom of King Ludwig II and an incredible banquet hall. There are also numerous gardens, lakes, and pavilions to discover on this huge estate.
English Garden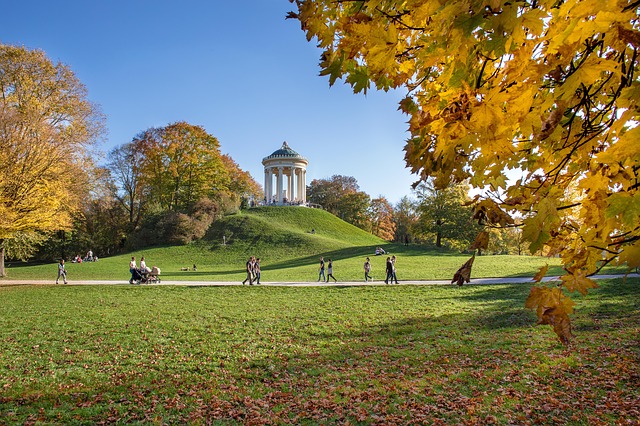 When you just want to relax and enjoy the day, the English Garden is where you'll find both locals and tourists enjoying the sun. It's a 1.4 square mile park that was created by Sir Benjamin Thompson in 1789 and is known as one of the world's largest parks.
One of the most notable landmarks at the park is the monopteros, a Greek-style temple erected on top of a hill that overlooks the park. Built-in 1832, you can climb the hill to observe the temple and capture an incredible view of the park.
You'll discover other sights and attractions walking around the park, including surfers catching waves from nearby streams and rivers in the park.
Dachau Concentration Camp
As the first concentration camp in Germany, Dachau opened in 1933 shortly after Adolf Hitler became the chancellor of Germany. The initial plan for the camp was to house political prisoners but unfortunately transformed into a death camp where many Jews lost their lives.
The camp is located outside of Munich and recommended you take a full day to explore. Admission is free.
Oktoberfest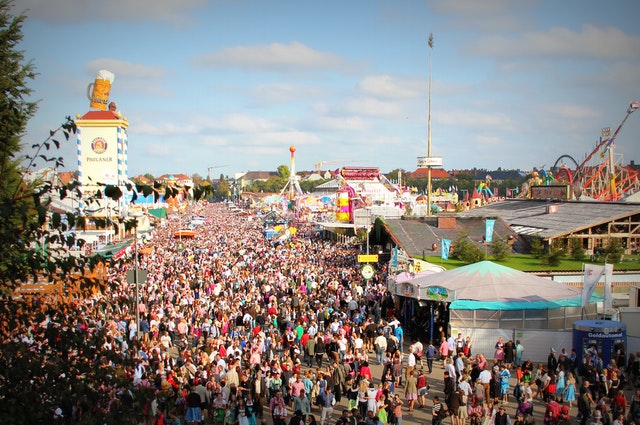 We would be remiss if we did not recommend Oktoberfest as one of the best attractions in Munich. Known as one of the largest festivals in the world, it takes place for a little more than two weeks from late September to early October each year.
Millions of people from around the world come to Munich dressed in Bavarian clothes, drink enormous steins of beer, and enjoy delicious, hearty German food. It is definitely something you must experience at least once in your life!
Learn more about the variety of activities you can do in Munich by clicking here.
How To Keep Costs Down
Munich can be an expensive city, especially if you're visiting during Oktoberfest, so knowing how to find the best deals will be important so you're not left with empty pockets.
Be sure to book your lodging well in advance. There are numerous hostels and Airbnbs available, ranging anywhere from $17-$34 USD/night. Private hostels are around $70 USD/night and if you're more of a hotel person, you can find budget hotels anywhere from $40-$90 USD/night depending on where you are in the city. But again, it all depends if you're able to book early. If you wait until the last minute, you can expect to pay significantly more!
If you're on a budget, there are plenty of affordable food options! You can literally spend $12 USD and receive an enormous Turkish doner kebab that will keep you full the entire day. There are also many traditional German restaurants that offer special prices for lunch that cost around $7-11 USD. Lastly, you can always buy your own groceries to stick to a tight budget. You can easily spend $50 USD on groceries for the week and be absolutely fine.
How To Travel Around Munich
The public transportation available in Munich is probably one of the best in the world. if you pick the U-Bahn (subway), the S-Bahn (above-ground train), the tram, or the bus, you will be golden.
You can download the super easy-to-use app to purchase one-way tickets, one-day unlimited passes, or multiple-day passes. One-way tickets cost around $3 USD and all day, unlimited passes are around $8 USD. All the public transportation available is easy to navigate and on time, so you can easily get anywhere around the city. You can always take a taxi, but you won't even need to with the superb public transportation options.
How To Stay Safe In Munich
Overall, Munich is a very safe city. You just need to use common sense as you would anywhere else. Don't go out after dark by yourself and if a situation doesn't look or feel right, just walk away. You also have to keep aware of any pickpockets, especially in high touristy areas.
You can also check our pick for the Best Cities in Europe to Explore