Paris is one of the biggest cities in Europe. But travel to your destination point is never a problem. Paris can offer a variety of transport systems, such as the metro (subway), buses, trams, RER and SNCF.  We going to provide you with some information and tips for each system. And also the best way to make travel cheap.
Metro.
The Paris métro is the fastest and cheapest way of getting around. Trains run 5.30am-12.40am Mon-Thur, 5.30am-1.30am Fri-Sun. Individual lines are numbered, with each direction named after the last stop.
Paris and suburbs are divided into six travel zones; zones 1 and 2 cover the city centre. RATP tickets and passes are valid on the métro, bus and RER.
A single metro ticket costs €1.90, and can be used for one journey, including all connections. White-coloured tickets can be purchased singly or in a book of 10 ("carnet") for €16, at the ticket offices or machines in metro stations, and also in some tobacconists.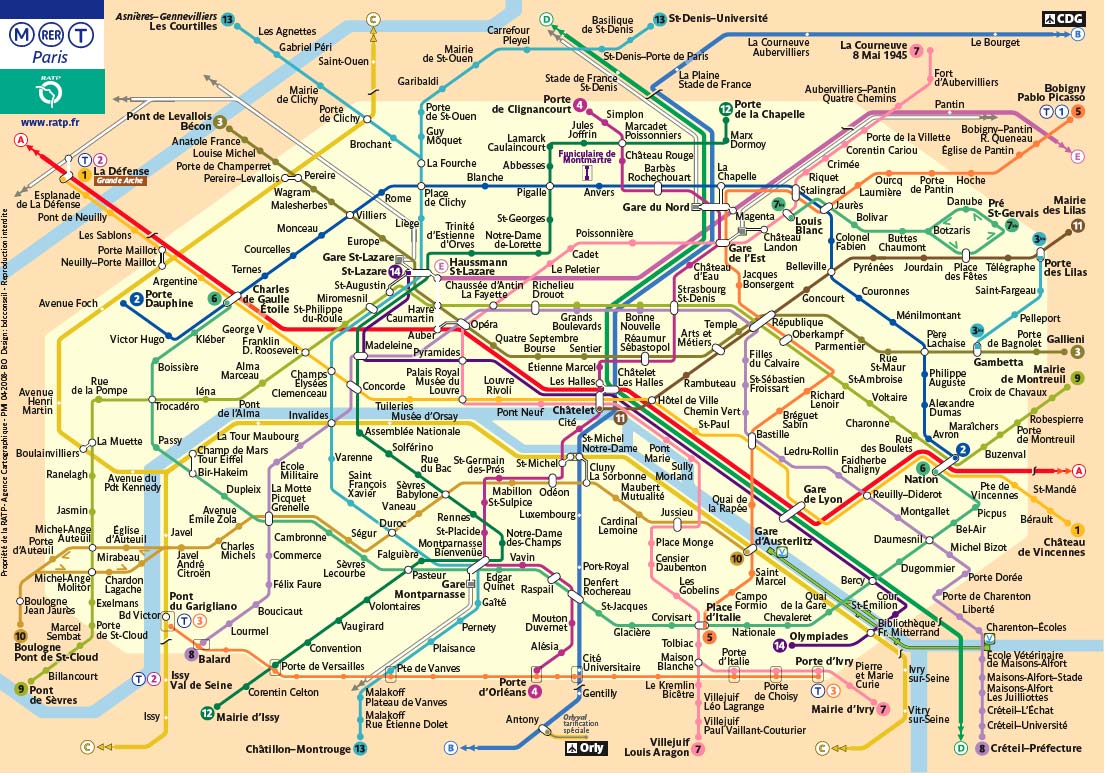 RER
The five RER lines (A, B, C, D and E) run 5.30am-1am daily through Paris and out into the suburbs. Within Paris, the RER is useful for faster journeys – Châtelet-Les-Halles to Gare du
Nord is one stop on the RER, and six on the métro.
In the RER, as long as you remain within the city limits, tickets and prices are identical to the metro (RER stations also have their own ticket offices and machines). If you are travelling beyond the city limits, you need to ensure that you are in possession of a ticket or a pass which covers your whole journey up to your destination in the Ile-de-France region.
Paris RER ticket prices are determined station to station for travel beyond Zone 1 and range from 1.90€ to upwards of 12.05€ . Some example trip RER fares (prices valid as of August 1, 2016):
CDG Airport to central Paris (from Zone 5): 10€
Paris Zone 1 to Disneyland Paris: 7.60€
Paris Zone 1 to Versailles: 3.55€
Trams
Two modern tram lines operate in the suburbs, running from La Défense to Issy-Val de Seine and from Bobigny Pablo Picasso to St-Denis; a third runs between the Garigliano Bridge in the west of the city to Porte d'Ivry in the south-east. They connect with the métro and RER; fares are the same as for buses.
Buses
On the buses, you use the same tickets as in the metro, with no limit of distance (including suburbs), except on the Balabus, Noctilien and routes 221, 297, 299, 350 and 351. The bus driver can sell single tickets, be sure to have the correct change.
Best way to save some money!
Week-long tickets are sold in the form of plastic contactless smartcards known as the Pass Navigo Découverte. You can buy a Navigo Découverte pass at nearly any Metro, RER, Transilien train ticket window that normally sells tickets and passes. (I say "nearly" because a ticket window may run out of blank Navigo passes to sell you.) You'll need a smaller than passport size photo to be used on the pass (exact Navigo Decouverte photo size is 3cm tall by 2.5cm wide), plus a pen to write your name. There's nearly always a photo booth nearby ticket windows at major stations, costing 5€ for a set of four pictures, so be sure to get your photo taken before going to the ticket window where they'll likely have scissors handy for trimming your freshly minted photo on the pass.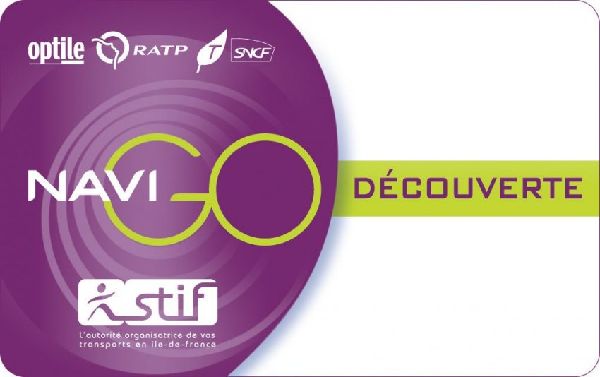 Navigo Week pass price, valid only from Monday at 00:00 to Sunday 23:59:59
22.15€ for central Paris and all Zones 1-5
includes Airport CDG (in Zone 5)
Disneyland Paris (Zone 5)
Chateau de Versailles (Zone 4)
covers ORY Airport (Orly, Zone 4) using the Orlyval bus "Orlybus" (not Orlyval train from Antony station)
Navigo Month pass price, valid from the first day of the month through till last day of the month ( as of August 1, 2016)
73€ for central Paris and all Zones 1-5
includes travel in central Paris and out to…
CDG Airport
Disneyland Paris
Chateau de Versailles
and Orly (via RER C & Orlybus only. Navigo is not valid for Orlyval train from Antony station on RER B train line).